Tips to help you do better in your NHL 15 Ultimate Team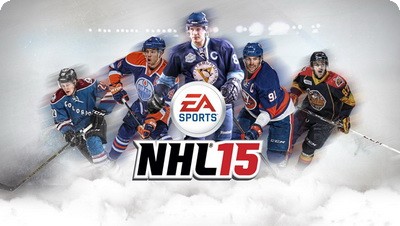 1. Beat some terrible national teams
In your starter pack, there is only one decent line on offense and defense with an ordinary goalkeeper. In order to begin your HUT, you will have to "Play Solo" against the computer for a few times to build up your puck balance. You can choose to beat some low-rated national teams such as Great Britain, France and Italy. Every time you win, you can get about 1000-1200 pucks.
If you are can keep defeat those Superstar national teams, if you are skillful enough, you can build a team with those castaways and go on earn pucks from exhibition games with them. You don't need to pay much money to sign the expensive excellent NHL players.
2. Work with proper head coach
To build an Ultimate Team, the first and most important thing is to buy a head coach. The correct coach can enhance the rating of the whole team. Actually there are two great coaches in NHL 15; they are D. Samuels and I. Skuin. Samuels will be very helpful in the developmental stages, because he is the +2ALL skater coach - the rarest in HUT. And when you've become strong enough, you can swap to use Skuin. Although Skuin is 0 Hands and -2 Checking, his +3 Skating, +3 Shooting, and +2 Defense are rather attractive for you to choose him.
3. Buy a goalkeeper in large shape
In NHL 15, the height and weight are very important for CUP-controlled goalkeepers, so the large goalkeepers like Dallas' Anders Lindbäck (6'6") and Ottawa's Robin Lehner (6'4") are very useful. But a good offense can always defeat the highest-rated goalkeepers, so you don't need to pay much coin on them.
If you pay 2500 coins to buy +5 All training cards and one 15-Game Duration, then you can get an cheap goalkeeper like Lindbäck.
4. Build a great NHL team with limited coins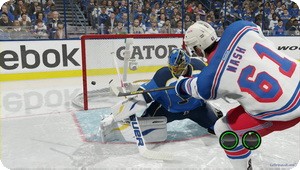 After decide the coach and goalkeeper, the next target is to put the players in the spot. The NHL players can help you promote your competition. Your team will be a potential team in the Online Seasons "Amateur" division.
Keep in mind that you should buy "non-rare" NHL play for 300 coins and "rare" players for 600 coins. No more money or you can't make profit when getting rid of them as the contracts terminate or the player injured.
5. Better to sell the injured player
It seems that players in NHL 15 are easily injured by the collisions in the offense and defense than that of NHL 14. And previously, you can just scratch the injured player from your lineup, and then he will be healed. Now, you will have to pay 1250-4500 coins to buy a "heal injury" card then heal him. Considering the interests, you can just sell the injured player and buy another player to take his place. Therefore, every time when you get the "heal injury" cards, just sell them to get several thousand coins back.
Stay away from the boards as much as you can, and when you are carrying the puck through the players, please let go of the left joystick to get more agility and this way, you can skate by the defenders who come charging at you for a body check. Keep this in mind and you can avoid injurious in the match as much as you can.
6. Build offense before defense
Because the AI and stick checking in NHL 15 are not powerful enough, sometimes the highly rated defenders and goalkeepers can't against the skilled offenses. Therefore, it would be better to build your offense at first. And usually you can cost 600 coins or less to buy an impactful defender, but you cannot get a talented offensive player at such a price.
7. Handedness
Different from what coaches do in real life, it is very useful to put left-handed players on the right side and right-handed players on the left side of the hockey rink in NHL 15. Because their positions are contrary to what they would be in a real match, the players can trigger the powerful one-timer animation easily.
Being a position which is no their natural position, a player will suffer from a penalty. Therefore you will need to buy "position-change" card.
8. Design strategies for your team
All kinds of team settings like fore-check, defensive style, defensive pressure, power play, penalty kill, and individual line strategies will have a big impact on the match, and you need to set them up before you fight with your enemy at the first time. Later, you just need to bring up your forward line-change screen and press the triangle button to change your face-off formation manually, and then all other settings will change automatically.
One of the biggest shortcomings in NHL 15 is the coverage of slot/crease. About this, there are little things you can do to fix it. You can only improve it slightly by setting your defensive strategies to "collapsing" and "protect net". Or you can set your forwards to "carry puck" to protect them from going offside, or telling your top lines to "save energy" until your team reaches the point.
9. Familiar with the face-off ratings of players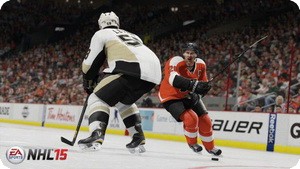 You can't see the face-off ratings on the HUT cards, but you can go back to the main menu and look up your players in the roster database and see the ratings. In most cases, a face-off rating of 80 or better is enough, but a great face-off expert like Paul Gaustad whose rating is 90 can be really helpful in winning key defensive zone draws. Wingers like Michael Cammalleri (80), Patrick Marleau (80) and Andrew Cogliano (78) can be moved to center if needed as they have reasonable face-off ratings.
If you want to know something about how the face-offs work in NHL 15, you can check our Operation Sports face-off guide. After published the guide, the only change of the face-off system is that now it is much difficult to win draws with a forward deke.
10. Achieve perfect chemistry
In NHL 15, only each player's position and professional teams can affect the line's chemistry. It is still can't tell whether this change is a bug or an intentional design; because defensive pairing can still affect the player's style when determine chemistry. To achieve maximum chemistry is a key to success in Hockey Ultimate Team. With perfect chemistry, the connections among players are easier and won't give any edge to your opponents.
11. Have more than one captain
When you begin to build your HUT with long-term players, you can to assign three captains. One is primary and two alternate captains; because captains can touch the puck the most in the game, then you can increase the ratings of these three players.
12. Collections are not as valuable as it was
Since the reward of collections in NHL 15 is untradeable card packs not coins, you don't need to complete all sets. Comparing the card packs, your coins are safer. When EA's Team of the Week and Player of the Game promotions start, you can invest your coin in marketplace items and then you can trade them.