PREVIEW: PATH OF EXILE REVEALS THE FALL OF ORIATH
Path of Exile fans, Grinding Gear Games is officially unveiling your next expansion,dubbed The Fall of Oriath.
It turns out that the place your Exile called home before being banished is not only the main setting of this act but is going through some rough times. Even lowbies like yours truly who vaguely recall their origin story can get behind this act. We're going home, dealing with civil unrest, and welcoming back some lost deities with sharp pointy objects or finger-wiggling destruction. And that's literally just the beginning.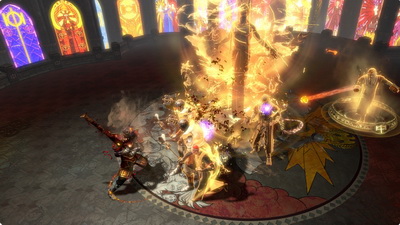 One expansion, six new acts
Surprise! You're not getting just Act 5 but Acts 6, 7, 8, 9, and 10 in the Oriath expansion. Even I needed a moment to process this when producer Chris Wilson was giving me the run-down during my demo last week.
New players might not realize that once you clear Acts 1-4 for the first time, you essentially replay them on a harder mode, like a New Game Plus from old-school RPGs that are featured prominently in a lot of modern ARPGs, like the Diablo series. After two replays, you'd move on to endgame. But GGG says it now realizes it loses a lot of players during the replay section of progression. Those who made it to endgame became core players, though, so the studio figured that if it cut back on the repetitive gameplay with some new acts, it'd be easier to get people to endgame and retain them. Considering that the game saw a 44% increase in player hours in 2016 when compared to 2015 and had over a million active players in December, I'm guessing they're making the right call for their metrics.
So Act 5 will take place in Oriath, across towns, temples, and mountaintops. You'll be fighting in all new zones, and of course, pick up some new abilities along the way. But Acts 6 through 10 take place in the old world as you revisit past areas to see how they've changed thanks to your meddling. Towns will be built up, mobs will evolve, paths you unlocked will remain unlocked, etc. A cynic might suspect the base game is simply being retextured, but Grinding Gears told me it's focusing on making Acts 6-10 story-driven content based on changes brought about in previous acts, and in doing so, the studio can create multiple acts much faster than before.
The Pantheon System
One of key themes for the expansion is gods. I won't go into spoiler territory here, but just recall that there are multitudes of references to gods in the original PoE storyline -- but no actual gods making mischief. That's all about to change. You'll be able to fix that, if you prevail, and thereby attain some of their power for yourself through the brand-new Pantheon System, which allows you to claim power from the gods at will. You don't just choose them like talents; indeed, you can swap them around as needed. Pantheon powers also grow in potency: For example, Soul of the Brine King helps you avoid getting double stunned or frozen. However, killing other gods can improve your abilities, like defeating Glace allowing the ability to reduce Chill effects.
The 'Legacy Challenge' league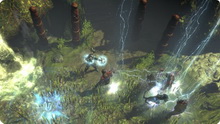 Beyond expansions, Grinding Gears is further trying to regain lapsed players with its previously introduced league system. These are essentially the same Acts but with new mobs or rulesets, like rarer dropped items and "permadeath" (by which we mean, a character can no longer participate in a specific campaign, but is safely transferred to permanent servers with all their fat loot intact).
On March 3rd, players will gain access to "The Legacy Challenge League." This league lets you revisit past leagues for adventures/items to celebrate the upcoming expansion, which is free. All of it. Except, you know, stuff in the store. This will be available before the beta for the expansion and followed by the actual expansion later this year.
New horizons
For our international crowd, the game is also coming out in China, with everything available at launch. The MMOARPG genre's quite popular in China; Path of Exile, you might be surprised to learn, is one of the most anticipated games coming out there thanks to help from Tencent's advertising, though due to genre popularity, Chinese players had already discovered the game via English and Taiwanese channels. Now they'll be able to play on their own turf.
The Xbox One version of the game is chiefly aimed at bringing hardcore PC action to console gamers. While everything coming in this expansion will be ready in time for the Xbox One launch, there's sadly no cross-play since the console version isn't identical (at one point, the number of potions available at a time for Xbox players was fewer than for PC gamers, for example, though that's since been fixed). Grinding Gears told me it's already turned many casual players into hardcore by building an accessible system that teaches and motivates players to be smarter. Combined with help from Microsoft's advertising team and grassroots demos with media, the New Zealand-based team is hoping to reach a broader audience.
We did ask about mouse-and-keyboard play on consoles: GGG explained it doesn't support that sort of play and would prefer people to play with the controller, as they've removed all the mouse code from the Xbox version of the game. The studio also says it's cleaned up the UI and store for Xbox and will be rolling out the change for PC as well.