New Year Special Promotion
As the year 2016 is winding down it's time to greet new year 2017 with new hope. Wish you all a very happy and prosperous new year. Thanks for supporting us in the year 2016. we are now preparing a fantasy New Year Sale of 2017. From now on, every friend came to our website will have an opportunity to get a big surprise.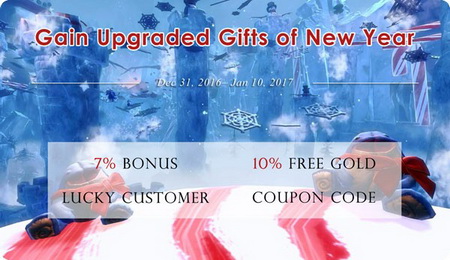 Time: 12.31 - 1.10
7% bonus will be given to all completed orders. Extra free 10% gold for 2-5 games every day. To learn more, please don't forget to follow our Facebook and Twitter pages.
Three lucky customers will be randomly selected each day during our promotion and their accounts will receive 5 - 50€bonuses as gift.
Limited number of coupon codes of 2€, 5€ and 10€ will be given out on our Facebook and Twitter pages each day. These coupons are applied to all our products.
CDK buyer can enjoy 10% off and get a gold Coupon code, worth 10% of his CDK order. (Note:This coupon is only allowed to buy goldduring our 2017 New Year Sale)
5% discount on orders of items and Power leveing services. Customers who purchase items, Power leveing services and gold at our store the same day during our 2017 New Year Sale will be offered 10% - 50% free golds or bonuses as extra reward.




Come and enjoy these great deals, special offers, and awesome treats to double your happiness during this festival on our website now.