Mmosale 14th Anniversary Celebration Event
As the September of 2018 is coming, we are welcoming the fourteenth birthday of Mmosale. To celebrate the special time and the long time endeavor we put in the field of MMORPG, as well as to show our gratitude of the long-term supporting and trusting from our customer, we would like to thank you with the biggest reward ever!
1. Luck draw activity
Aug. 31 - Sep. 02
Every customer has two opportunities to join in the luck draw activity every day and you may get free discount bonuses, coupons, CDK, gold coins, etc. Try your luck. You'll probably get one.
2. 5% OFF or 10% extra gold for gold order.
Sep. 03 – Sep. 16
Buying Gold of FIFA /AION/Neverwinter /Path of Exile /Blade & Soul, you will get an extra 5% cash discount (don't forget to click on your gift in the shopping cart page). In addition, you will get an extra 10% coins for all other games, such as WOW, ESO, FF14, SWTOR, GW, DOFUS, etc.
3. 8% discounts on Game Card, Items and Power Leveling Orders.
Sep. 03 – Sep. 16
Buying Game Card, Item and Power Leveling services of any game, you will get an 8% cash discount cash discount. Don't forget to click on your gift in the shopping cart page, otherwise, the discount won't work.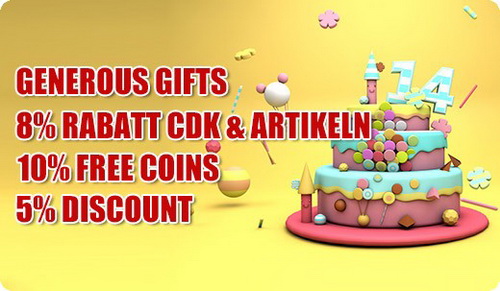 4. Leave us a message on Twitter and Facebook and if you are lucky, you will get GOLD, CDK, or item for free.
Follow us on our Twitter, Facebook and leave us a message telling us what you want: coins, CDK or item, and the name of your character (of course, we are also expecting to get your anniversary wishes). If you are lucky enough, we will offer it to you as a fee gift.
We appreciate your support for MMOSALE within the past 14 years. We will continue to provide you with the best service in the future.