November's Top 10 MMORPG List
How time flies! One month has passed. We meet here again. Are you looking forward to seeing what place your favorite game achieved in the latest MMORPG ranking? Let's take a look at the may's Top 10 MMORPG List.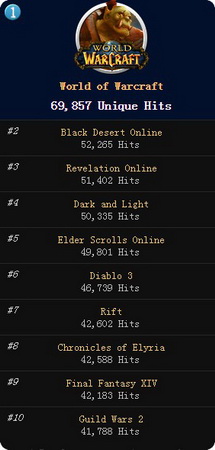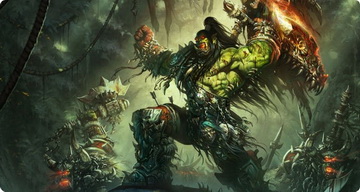 World of Warcraft
It's crazy to think that World of Warcraft, first released in 2004, is still going strong today. Indeed, it's no small feat to have over five million rumoured subscribers for a game that, despite being very different today than it was back then, has been going for 12 years.
Despite Blizzard no longer sharing subscriber numbers, the company's strength allows for constant reinvention and reinvigoration, and with this year's release of Legion selling 3.3 million copies, World of Warcraft shows no signs of disappearing any time soon.
If you're thinking of jumping back in, you've got great timing – it's as good as it's ever been. Just brace yourself; the game may have changed, but the players you're likely to bump into on your travels haven't.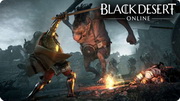 Black Desert Online
I love it for a multitude of reasons; character generation is amazing, the game is absolutely stunningly beautiful, there are a million quests covering all sorts of activities, grinding is effective if you just want to go somewhere and slaughter, combat is insanely fun, but most of all, I love it for its complexity.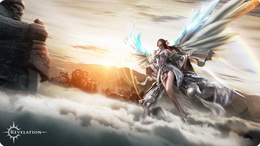 Revelation Online
Revelation Online is an ambitious and breathtaking new MMO in which players will discover an amazing adventure and explore a vibrant world of ancient mystery using the power of flight without any boundaries. It is difficult to come across this much and diverse content for any type and level of player. The game includes several PVP modes, like a Last Man Standing arena, sieges for up to hundreds of players, as well as PVE raids, requiring teamwork and tactical gameplay.
Dark and Light
Dark and Light is meant to be a fantasy sandbox survival MMORPG. Players stake claims on the land using magic to change the physical laws and ecosystem of the world; this embodies the essence of the game: constant opposition and conflict. Numerous conflicts exist within human society in the game, as well as between humans and the environment around them. Exploration and competing for survival are the major themes at the core of Dark and Light.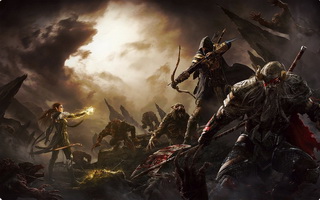 Elder Scrolls Online
The first online game in the Elder Scrolls franchise will cover the entire continent of Tamriel and feature three distinct player factions. Players will choose a faction and clash with the other two factions, the Empire and the Daedric Prince Molag Bal in an attempt to take control of the Imperial City of Cyrodil and stop Nirn from becoming merged with Oblivion.
The game features three distinct player factions each with three member races.
Daggerfall Covenant
The Daggerfall Covenant controls northwest Tamriel with a strong hold on High Rock and footholds in both Skyrim and Hammerfell.
Aldmeri Dominion
The Aldmeri Dominion has a tight hold on Summerset Isle with a strong foothold in Valenwood.
Ebonheart Pact
The Ebonheart Pact holds Morrowind with a foothold in Skyrim.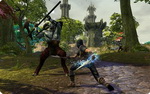 Rift
Rift's latest expansion, Starfall Prophecy, is the first time I find myself having run with Trion's flagship game since around the time of Storm Legion. That said, this expansion's had its share of bumps and some design choices that seem a bit antiquated.
Diablo 3
Diablo 3's about to have a pretty big 2017 with the Diablo: Darkening of Tristram event going live in January, the Necromancer Character Pack later in 2017, and tons of new features being added as well.
Chronicles of Elyria
Chronicles of Elyria is the first MMORPG where your character ages and dies, encouraging you to think beyond your character to their role in a larger story. Fearless in its design, it embraces a character's ability to impact other characters. A closed economy, finite resources, non-repeatable quests, and a fully destructible environment means the world is experienced differently for every character. Each time you log in there is something for you to participate in. Local, regional, and national conflicts are continuously unfolding, giving birth to repeated opportunities for you to change the course of history.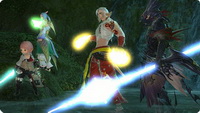 Final Fantasy XIV
FINAL FANTASY XIV is one of the most popular MMORPGs of its generation. After a disastrous release, the title got back on its feet with A Realm Reborn and has ever since been relevant for its content and community. Players of the latest online game in Square Enix's long-running franchise are dedicated to it, be it for its dungeons, its lore, or its social mechanics, the latter of which may seem like a huge deal for outsiders. Living up to such expectations, a virtual theater group known as A Stage Reborn will perform an adaptation of the play that opens FINAL FANTASY IX, I Want To Be Your Canary.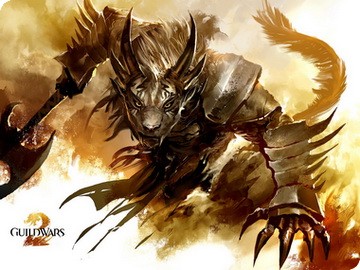 Guild Wars 2
Launched in 2012, "Guild Wars 2" is an immensely multiplayer online role-playing game made by Arena Net for Apple Mac OS and Microsoft Windows. It is set in a fictional world of Tyria, 250 years after the players' overthrow of the Great Destroyer in the Eye of the North enlargement.
"Guild Wars 2: Living World" was released on November 21. Project Reality recently announced that mods for the game are already available. The mods incorporate "Falklands War" into the game, which includes new content updates such as "Nightmare Fractal" and "A Crack in the Ice."