We have planned serial of promotions for our customers, and will keep doing this in the future. The Lucky Draw is launched and if you are interested, you can come to enjoy this game if you are qualified to participate. About questions of how to do the lucky draw, please follow the steps below.

Note: the qualification of participating in the lucky draw is subject to the concrete rules of each lucky draw promotion.
1. Place an order and pay it. If you have questions about placing orders, please check this: https://www.mmosale.com/the-entire-order-procedure
Note: it is free to use bonus store credit to pay your order in the lucky draw game. For how to use bonus credit, please check: https://www.mmosale.com/use-bonus-store-credit
2. When your order is successfully paid, a new button of "Lucky Draw" will be revealed.

Also you can see it in you order status.

3. In the Lucky Draw page, you will the lucky wheel. To start your draw, click "START" in the middle of the wheel.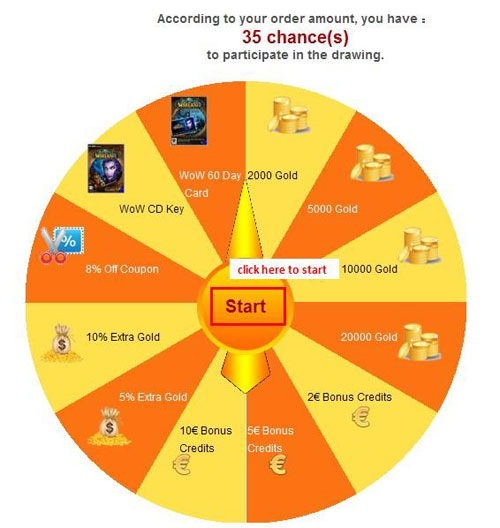 4. The result of your draw. Press continue if you have more chances remain.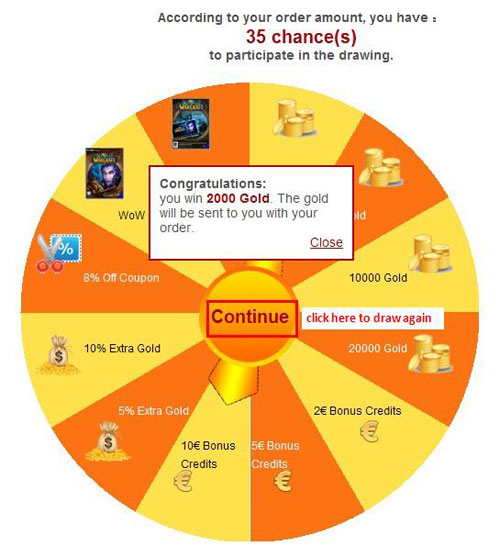 5. If all your chances have been used, the new status "Lucky Draw" at the end of your order will disappear.

If you enter the lucky draw page again, it will annouce this:

The vitual items you win will be sent in 2 to 72 hours. If there is any question, please do not hesitate to contact us.