July's Top 10 MMORPG List in North America
How time flies! One month has passed. We meet here again. Are you looking forward to seeing what place your favorite game achieved in the latest MMORPG ranking? Let's take a look at the July's Top 10 MMORPG List.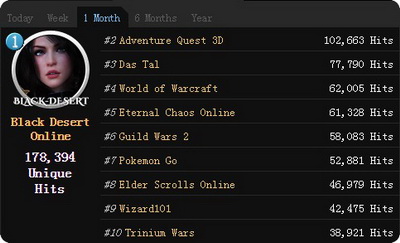 1. Black Desert online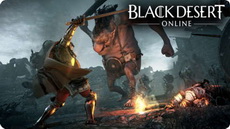 Black Desert has amazing features and is a new MMO coming to the west in 2016. Kakao Games recently released a new trailer for the Kunoichi Awakening for the Korean version of Black Desert Online. This Awakening is not currently available on the NA/EU servers for Black Desert Online but will be added in the near future!
The combat in Black Desert Online is action based, requiring manual aiming similar to those found in third-person shooters. Skills can be activated through use of combos. With limited healing skills players must rely on well timed dodging or blocking as well as the use of potions. Players can use the mouse and keyboard or gamepad for navigation and comba
2. AdventureQuest 3D
AdventureQuest 3D is a cross-platform online multiplayer fantasy RPG! Play your character on the same sever as all your friends no matter what device you are using: Steam (PC/Mac), Apple iPhone/iPad, Android Phones/Tablets and more coming soon. An inspired re-imagining from the creators of the original 2D Flash web game!
3. Das Tal
Das Tal is a fast-paced Sandbox MMORPG that focuses on player interaction . Full Loot and Open PvP create a game of "risk vs. reward" where you weigh up your options before engaging others.
4. World of Warcraft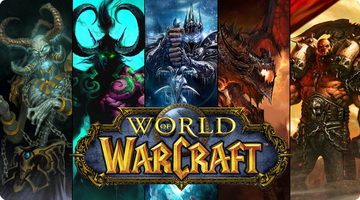 World of Warcraft: Legion is the sixth expansion set in the massively multiplayer online role-playing game (MMORPG) World of Warcraft, following Warlords of Draenor. The Burning Legion is invading Azeroth with its full force, and the world's heroes must discover new pinnacles of power to halt this unrelenting threat. Learn about how you'll claim powerful artifacts—mythical armaments that grow in power with their wielder—and about changes to your class coming in Legion.
5. Eternal Chaos Online
Eternal Chaos Online offers a wide range of gameplay, from traditional quests to a series of challenging dungeons to solo and group PvP arenas. There are also campaigns where you can interact with historical people such as Joan of Arc and Robin Hood, and cross-server World Boss Wars, which are reserved for the best players. No matter what your preference, you'll find something to enjoy in Eternal Chaos Online!
6.Guild Wars 2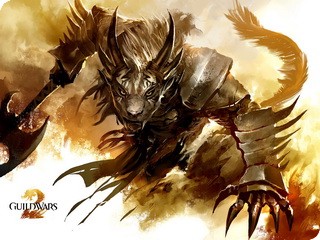 ArenaNet has launched a big update for Guild Wars 2, delivering its first chunk of non-raid-focused content since Heart of Thorns' launch last October. Out of the Shadows kicks off season 3 of GW2's Living World with a new zone, new storyline arc, and new instanced areas for PvP and PvE. Players celebrate the defeat of Mordremoth while mourning fallen comrades and investigating a new threat lurking in the Maguuma Jungle following the elder dragon's defeat.
7. Pokemon Go
Pokémon GO is a free-to-play augmented reality mobile game developed by Niantic for iOS and Android devices. The game was released in July 2016. The game allows players to capture, battle, train, and trade virtual Pokémon who appear throughout the real world. The game is free-to-play, although it supports in-app purchases. An optional wearable device that works alongside the game, called the Pokémon Go Plus, will be released in the future as a separate purchase. The device uses Bluetooth connection to notify users when a Pokémon is nearby with an LED display and light vibration.
8. The Elder Scrolls Online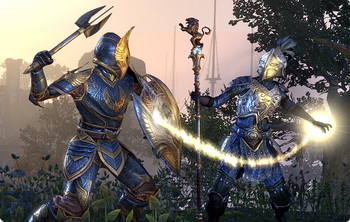 As in previous The Elder Scrolls titles, gameplay is mostly nonlinear,[7] with a mixture of quests, random events, and free-roaming exploration of the world.[8] The game does not provide a mode for single-player offline play, although the developers have stated that there will be "plenty of content" designed to accommodate players who prefer to play solo.[9]
The player is able to play as numerous races such as Nords, Redguards, Bretons, Imperials, Dunmer (Dark Elves), Altmer (High Elves), Bosmer (Wood Elves), Orsimer (Orcs), Khajiit, and Argonians. Players must choose one of four classes when creating their character. Each class gives the player various different attacks, spells, and passive effects. The game has other character choices beyond those of race and class, such as the player character also being able to become either a vampire or a werewolf, each of which grants its own skill tree.
9. Wizard101
Wizard101 is a free-to-play fantasy MMORPG from KingsIsle Entertainment that allows players to take the role of students at a school for wizards. Players create a character and then enter one of seven magical schools, learning the ropes and some new skills, then plunging into the magical, sometimes humorous storyline.
10. Trinium Wars
Trinium Wars is a post-apocalyptic Sci Fi MMORPG set 200 years after World War III. Join either Humanity trying to re-conquer Earth, or the Narc, an ancient alien race, in PvE, MOBA-style PvP or the persistent battlefield to secure the most precious resource in the universe: Trinium.