---
There are many new mounts in WOW 9.0 the shadow realm. There's a special mount which is worthy of gathering for player. This is a red ghost horse with shiny wake flame when running.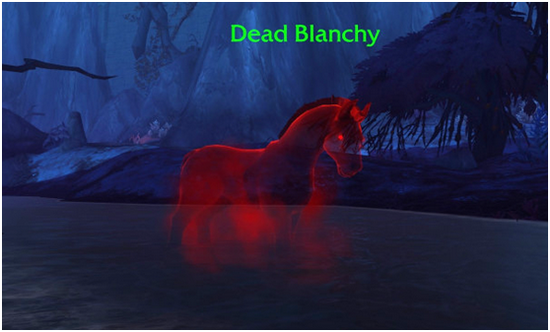 Strategy of getting Sinrunner Blanchy
1.You should be in the Dead Blanchy spawn point(63.44). Dead Blanchy will move quickly that the player has to force it to stop in order to start the interaction.
2.You can talk with Dead Blancy once a day and she will indicate a different thing she wants. You totally need to talk with her for six days.
First day, you need to find 8 "Handful of Oats" in northern Westfall and give to Dead Blancy.
Second day, you need a Grooming Brush which you can get from Snickersnee in Revendreth Darkhaven.
Third day, you need to find 4 "Sturdy Horseshoe" around the round in Revendreth and give them to Sinrunner Blanchy.
Fourth day, you need a Bucket of Clean Water. You can get an empty bucket around Snickersnee, and then go to any water area in Ardenweald or Bastion to fill in water.
Fifth day, you need to use about 30 meats to buy a comfortable Saddle Blanket in Ta'tru" (the price will change every week, so you'd better to check the price before purchasing).
Sixth day, you need buy 3 Dredhowllow Apple in Mims (you can get them in auction house).
Now, the mission is completed.

3.Note:
The Dead Blancy will refresh every two hours. Each time when the first player interacts with her, she will disappear after 5 minutes. 55 level of character is required.
You will get the Blanchy's Reins after 6 interactions with Sinrunner Blanchy.
As one of the classic mounts in the shadow world, although it is unable to fly, it is also worthy of collection. Wish you collect the Blanchy's Reins smooth and also enjoy the fun of collection.