How To Making Trading in FUT 14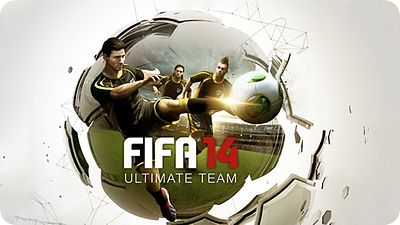 In the following paragraphs we will take you through step-by-step how to make coins manually. As a general guideline we will show the most optimal methods for the amount of coins you have. In order to assist your trading , please also check out our updated guides to assist you with your trading.
Remember: A 5% EA tax will be deducted on everything you sell. When you sell cards, keep your Starting and Buy Now prices as close as possible. This is because many FUTers will be more inclined to wait until your auction finishes if there is a big enough gap between these prices. Peak times to sell are between 3.30pm – 12am (UK time).
Note: All prices quoted here are for the XBOX, but the same trading methods apply for the PS3 and PC!
1000-10000 coins
when you have between 1-10k coins, you may come across many other methods of making conis, and we know these works well for the more patient FUTers (it has worked a treat for us in first few weeks of FUT 14). Once you know the value of a popular player who search for a max Buy Now price a few hundred coins cheaper than what you can sell them for. It is probably that a message saying 'No matching results found' will appear, Click OK then click search again until one appears. Buy it instantly (be careful it isn't another player with the same club and nationality with the position changed).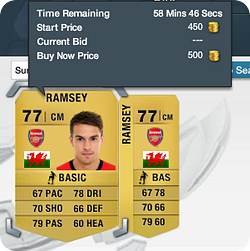 It doesn't take long to find a bargain when you know ramsey is such a popular player that gets listed in the Transfer Market every minute. While writing this guide we purchased Aaron Ramsey for 500 coins in the 58th minute and then instantly sold him for 800 coins (bagging 260 coins profit). Please remember that you shill find your own player you can consistently make coins on using this method. Now we have advised FUTers to do this with Ramsey it will become harder to snap up bargains! You will need to search for a Buy Now price 10-25% cheaper than their value, if you use this method with more expensive players. This method can be very effective, When you're patient enough! You will be able to make even more coins on the player if a popular Chemistry Style is assigned to that player.
10,000 – 25,000 coins
Depending on the margins that you make, will depend upon the amount of coins you choose to use with this method. Obviously the more coins you have the more players / expensive players you will be able to buy. The next method we discuss will help you make a quick few thousand coins in one transaction. Every Wednesday at 3pm (UK time) a new TOTW is announced, whereby many of these popular / high rated TOTW regular cards will rise in value compared to the previous few days (usually peaking between 3-3.30pm UK time when the TOTW is announced and slightly increasing at 6pm UK when in-forms are released into packs). Because of the fact that they are overly hyped and other FUTers must use them in their teams but cannot afford their in-forms! If you can predict popular / high rated players that will feature in the following TOTW and you can pick them up at a bargain price then you are guaranteed to make coins. Timing your purchase right is VITAL when making coins.
25,000 – 50,000 coins
Please note: Now that FUT 14 is in full swing, this method is very popular and will become harder to use.
We found that optimization of 54 minutes and highly rated the most expensive player! This is because it can be very time consuming, and it takes patience to search near the 54th minute potential bargains. Our way to the use of this method is firstly, write down the most cheap price of 15 players and some states of the highest value of the bottom. Once we memorized these values we knew instantly whether we saw a bargain (it's easier when there are two of you as you can quickly confirm before purchasing)! The next step was to filter the Player Search results to Quality: Gold > League: Barclays PL and click Search.
We deliberately filtered the Buy Now Min. to 9.5k coins to remove all of the cheaper players from the search results. Then, you will have to spend a few minutes to scroll to page 200 and then scroll back and forth page refresh the page and get the latest time to market. We have successfully using this method, often pick up players. Please remember not to click back to search, you will have to scroll through the pages until 59 minutes again. this method could prove very successful for you!
50,000 – 100,000 coins
Once you have accumulated nearly 100 k COINS, you can see start trading and pop/high rated in form. There are two methods you can use when trading with in-forms (one where you have between 50k-100k and the other when you have more coins to spare).
Firstly you will notice that come 6pm UK on the Wednesday, the TOTW in-form prices are sky high. You should wait for prices to stabilise, and looking for bargains to use now purchase price is lower than the value of Max, or trying to find them cheap live auction. We found that the best time to find a cheaper form of prices have stabilized at the scene after the auction is in the morning (UK time) when the majority of users are at school, college, university and work. Live Auctions finishing during early morning UK times will involve less bid wars. Once you have purchased a state in the bargain, list it for now they want to purchase price and if it doesn't sell stay until it listed again (you'll have more chance of selling it for a tidy profit in the evening UK).
100,000 + coins
When you have a coin for the more than 100 k (500 k) is the best, you can more easily to tie up the players of the coin. This method involves picked up pop/high rated condition at a cheaper price in the whole middle end of this week, waiting for the current form disappeared from the package. If we want to use, if Aubameyang Reus in our class, so we found this to be a perfect excuse! These players have now disappeared in the package there will be less of the market, will see their prices have risen sharply. Please remember that this is assuming the player does not get another in-form for a couple of weeks and is popular with FUTers. If you think the player will get another state in a popular position, and then make sure you sell this name before this! We also recommend that sell expensive players in January 2014 market meltdown.
Other methods used when you have a lot of coins include monopolizing the market with certain cards. Remember that this is easy in some consumables such as you now have unlimited supplies of pile! We will discuss these other trading method in more depth soon, including methods involving different events, such as in the next few weeks!
A few tips
Make sure you follow popular YouTubers as they have the ability to influence FUT 14 prices.
When a large number of packs are being opened (due to a popular TOTW or Happy Hour) the market will become flooded with bargain consumables and cheap bargain gold players.
Strength has a much greater influence on how your team plays compared to FUT 13.
Before purchasing a player make sure you change Summary to Status so you can see the player's Contracts and Fitness. If both are low then you will have to apply Contracts and rest them / apply Fitness Cards.
Make sure you put your players through several listing cycles to help them sell (if by the 3rd cycle they haven't sold then drop the price).
Players that you purchase from the Transfer Market will need to play 10 games for your Club before receiving a Player Loyalty Chemistry Bonus.
Conclusion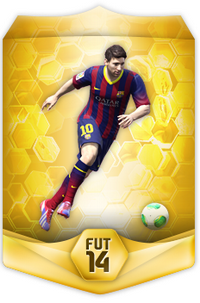 For more advanced traders fear that the number of new FUTers become agglomeration and bam, don't worry, because there will always be new ways to make COINS! With the significant increase in FUT 14 players compared to FUT 13, you will always be able to find bargains! If you follow these methods you will soon become an expert trader, you will understand the value of most of the items in the market as well as the knowledge of what events affect a bang 14 market. This will help you to recognize instant bargains and players to invest in.
We hope this guide has helped you build up coins on the start of your FUT 14 journey.