Hay Day Guide: save cash and grow your farm fast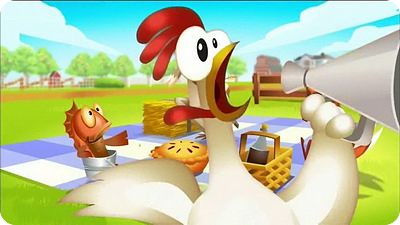 HOW TO GET AHEAD IN HAY DAY, THE ADDICTIVE FARMING GAME, WITHOUT SPENDING BALES OF REAL CASH
As one of most popular free to play games on the App store, Hay Day may cost you a bundle in app purchases if you're not careful. These are some tips I've figured out for you to get ahead in the game without paying a coin.
This game enable you to in charge of rehabilitating a farm that's seen better days, you grow and harvest crops, raise livestock, clear land, and make goods you can sell to local business man and consumers to make a tidy profit. Different levels can give you different goods, livestock and crops. The higher your level is, the more species you can choose. And some other assorted goodies can help make your farming experience better. Similar to other free to play games, there is an in app purchase mechanism exist that you can use to buy a hard currency in the game (diamonds) which get you ahead and get you out of jams. The tips I've come up with are to keep you out of those jams.
1. Don't run out of seed crops.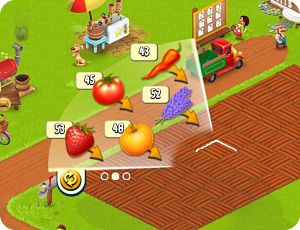 In this game, every crop you plant will double its yield when harvested. One unit of corn planted in your field yields two corn units in your silo. Attracted by this outcome you may use up all the seeds in your silo to fill a lucrative order. Don't do that. Try to hold some in hands to create the products next time. If you use them up at one time, the only one way you get more seeds is to use diamonds.
Not to mention that you're going to need to constantly supply your livestock with feed as your farm grows -- for that purpose, you should always have a good stock of wheat, soybeans, corn and other feed in your silo at all times.
2. plant show-growing crops at night or during work hours
Some crops only take a few minutes to mature – wheat, corn, and carrots, for example, all take less than ten minutes. Others, like pumpkins and indigo, take hours. Choosing to plant those crops before you go to sleep or if you're going to busy with work or school for a few hours; that way they'll be ready when you come back and you harvest and use them as you need to.
The same rule also works for livestock and finished goods you're making. Some take hours to get ready, so make sure they start production before you're off to bed, and they'll be ready when you wake up the next day.
3. don't bother with visitors to you farm
Visitors to your farm want to buy your goods, but they sometimes don't want to pay a premium for them, so don't be afraid to reject them.They won't take offense and they'll come around again soon enough as soon as the mood strikes them.
4. Use your roadside stand to fill your coffers
Sell your goods to your friends and followers who are also playing Hay Day game rather than selling goods to visitors. You can check your newspaper to see what your friends are selling produces for and follow suit. What usually do is just max out the price of the good then knock 10 percent off, usually it sells right away.
5. Don't be afraid to say no to orders
Sometimes, you can find the bulletin board will pile up with orders from nearby business that need your goods- churches, schools ,stores, salons and more. They're usually willing to offer an acceptable price, but sometimes you don't have enough goods to complete the orders. Don't be afraid to say no to those orders.
You'll end up waiting a few minutes until the next order arrives, but if you can fill it, it'll be more convenient than having the limited storage space you have for orders taken up by goods you can't or don't want to fill.
6. Balance money with experience
When your orders come in, you'll see two figures appear at the bottom – coins and stars. Coins are the money you'll get for each order, and stars are the experience points you will get when completing that order.
Succeeding at Hay Day is as much about leveling up as it is about making coins, so look at those orders carefully. Among them some may be worth your attention to fulfill an order which provides more experience rather than cash to help you level up faster.
7. And a cheat –reload the game to refresh the newspaper.
Except for six tips and tricks above, there is also a cheat for you. Do like this: Your newspaper shows you the current deals that other Hay Day players are offering. You can force the newspaper to refresh if you quit the game entirely, and then relaunch it. (And when I say quit the game, I mean get it out of the active memory – if you're unfamiliar with how to do so, follow these instructions.) the newspaper should be refreshed and you'll see new deals.