Now comes: Guild Wars 2 Second Beta Weekend
The second Guild Wars 2 beta weekend Event begins this Friday afternoon. For three days, players from all over the world will experience tons of wonders and dangers. And there are some new updates for the coming beta event. Are you ready?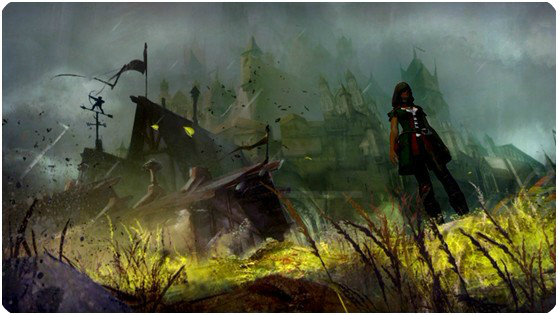 Contents of New in Guild Wars 2 Second Beta Weekend Event
If your character is level 35 or higher, you can expand your adventure in a new dungeon: The Ascalonian Catacombs house. With three separate paths, you may have a near inescapable experience. Or if you have not reached level 35 and are interested in leveling on rolling hills scattered with pines, and you wish some new adventures just outside of Lion's Arch. Gendarran Fields will be suitable for you. While slaying the wild beasts, do your civil duty and kill any ruthless bandit gang passing by.
Completely new to game is the Mystic Forge. Killing the powerful djinn known as Zommoros in the forge should drop some excellent items. While World vs. World might require large scale tactics, a new automated PVP tournament is provided for smaller groups. Every tournament has three-round single elimination matches. Eight teams of five players will face off in success. Whoever win the tournament will be able to plunder a chest full of loot.
Apparently the Guild Wars 2 beta weekend event has drew lots of attention since we have great experience in the first beta weekend. So you may interest in things to do for the Friday beta weekend. Let's go through some tips for the event:
Answer the questions of NPCs after you design your character. Your answers effect your story and some NPC interactions in different areas. Don't just go away when finishing a dynamic event. Usually when a dynamic event is completed, a chat will occur for few minutes and then another dynamic event will start. To see whether there will be new things happen, just stay in one place for three or more minutes. If nothing happens, you can move on.
If you have no idea where you are heading to, there are two ways to go. Looking for a scout which are marked with binoculars. They will excite you. Besides, sometimes NPCs will beckon to you or run up to you and say "hey jerky, help a bro". Those will active some hidden events.
Be cautious of your waypoints. As we can expect, players of GW2 all want to collect waypoints as fast as possible. But before starting on a heart or dynamic event, remember to get the closest waypoint. Or it will make you frustrated when you die and have to do all the way back again. One of the very first waypoints you'll want to unlock in the major cities will be the ones located next to the bank. This will allow you to quickly travel there to drop off crafting materials, item upgrades for your alts, or other collectables you want to store.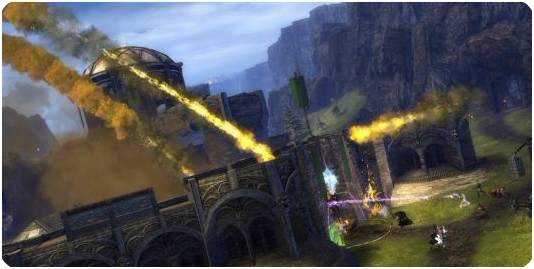 If you run up to a mob, usually they will pause for a split second to punch you or to wind up a big attack. Do exercises of using combo skills. The easy combos contains a field + a projectile or a field + a jumping/leaping attack.
Read the skill tool tips for conditions. Proper using of conditions can greatly increase your survival and killing speed. Skills of 7, 8, 9 unlock at level 5, 10, and 20. You need skill points to get new skills, which you can get from doing skill challenges. In every major city there are places that offer a few skill points to purchase. Traits will unlock at 11. And In-combat weapon switching unlocks at level 7.
A larger bag will save your time. Perhaps the easiest way to increase the size of your bags is by crafting. If you want to make boxes or bags by yourself, you should go for Armorsmiths, Tailors, and Leatherworkers. They provide fair and cheap crafts. With little cost and effort you'll be able to get 8 slot bags, and will probably even be able to make a 10 slot bags if you can improve your crafting skills quickly. You should know that a Rune of Holding is required to make bags.
Like any other games, in Guild Wars 2, you will always feel that your storage space is limited though, especially for ones love colleting and hate just throw things away. However, in GW2, there is a convenient way to enlarge your storage space: guild storage. The size of guild storage could be increased by the mass of your guild.
There might be more upgrades after this beta weekend. And we are waiting and expecting for all the amazing changes of Guild Wars 2.