Final Fantasy XIV Adds New Housing and More With Patch 4.1
Coinciding with PAX West 2017 that concludes today on September 4th, Square Enix released its Letter from the Producer regarding FINAL FANTASY XIV: STORMBLOOD. For those that don't know, these letters are essentially long-form livestreams hosted by Naoki Yoshida, the executive producer of Final Fantasy XIV.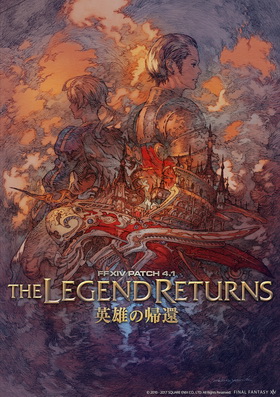 These letters are typically used for major announcements of changes and additions to the popular MMORPG. In this case, the 38th letter was a special one, as it was also in celebration of the game's fourth anniversary since its launch on August 27th, 2013.
In celebration of the anniversary, this particular letter was a part of the 14-hour long annual livestream over Labor Day weekend for Final Fantasy XIV. With this special occasion, Producer Yoshi-P announced some brand new features coming to it, many of which have been long-awaited for fans of the game.
Patch 4.1 entitled "The Legend Returns" is only a month away, scheduled to release in early October. With it, comes the first part of expansion Stormblood's 24-player raid Return to Ivalice. This particular raid will have players returning to the setting of this year's Final Fantasy XII: The Zodiac Age with the scenario penned by Final Fantasy Tactics director Yasumi Matsuno.
Also: Final Fantasy XV is Coming to PC
To the excitement of players, 4.1 will finally introduce new housing for sale. These houses will be located in Shirogane in Stormblood's main city of Kugane. This will add more available houses to the game's currently extremely limited allotment. In addition, there will be a new relocation service offered for those that would like to easily transfer their current estates to the new area of Shirogane.
Final Fantasy XIV Patch 4.1 Additional Content
Continuing the main story past the end of the expansion

The ability to add friends, send private messages, and more cross-world

Bard's new non-combat ability "Perform" meant for social interaction

Extreme version of Shinryu's trial

Another chapter of the Hildibrand storyline

A new level 70 dungeon: The Drowned City of Skalla

Mecha-inspired PVP mode called Rival Wings

New Ultimate difficulty level

The Unending Coil of Bahamut (Ultimate)

Additional items and gear