Star Wars: Jedi - Fallen Order
Star Wars Jedi: Fallen Order - Everything We Want To See
EA and Respawn, the ex-Infinity Ward developers of Titanfall, have announced their long-in-development Star Wars game at EA's E3 press conference - Star Wars Jedi: Fallen Order.
We know very little about the game so far, in fact EA haven't even given us a logo to work with. So here's everything we know about Jedi: Fallen Order, what we want, and what we can expect to see!
Star Wars Jedi: Fallen Order Release Date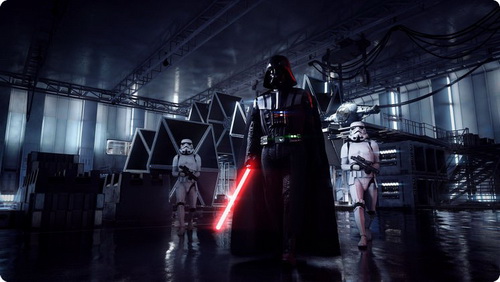 Star Wars Jedi: Fallen Order currently has a release date of Holiday 2019, although absolutely none of this is set in stone so may change. Incidentally, that's over six years after EA announced Respawn were working on Star Wars game.
Star Wars Jedi: Fallen Order Setting and Time Period
Respawn's Star Wars title will be set between Episodes 3 and 4, like recently concluded cartoon series Star Wars Rebels, the current Darth Vader comic series, and LucasArts' The Force Unleashed games (which aren't canon anymore).This is after the formation of the Empire, the downfall of the Republic, and the massacre of the Jedi Order following Order 66.
Anakin Skywalker has become Darth Vader, Obi-Wan Kenobi is watching over the young Luke Skywalker on Tatooine, Yoda has gone into exile on Dagobah. These are "the Dark Times", as Obi-Wan and Vince Zampella put it. The only thing we're not sure of is whether it's closer to Episode 3 (like the Darth Vader comic) or Episode 4 (like Rebels or the Rogue One movie). We suspect the former, since there will still be a significant number of Jedi running around at this time.
Star Wars Jedi: Fallen Order Characters - Who We Want To See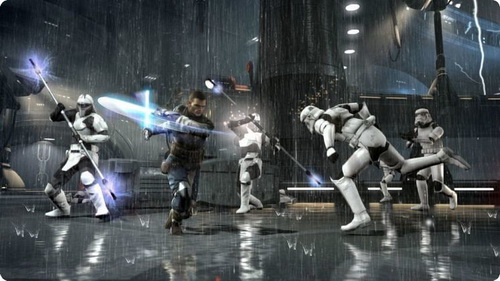 Here are possible characters who could make an appearance in the game:
Darth Vader - We would call this a near guarantee. Vader is obsessed with hunting down the remains of the Jedi Order and he's arguably the most popular character in Star Wars, so any game about Jedi set in this time period would certainly feature the Sith Lord front and centre. We hope that he can't actually be fought though, since no Jedi could possibly stand against him and survive. Instead we'll leave that to...
The Inquisitors - A relatively new addition to Star Wars canon (or at least the current version of them), the Inquisitorus would previously be called "Dark Jedi", ex-members of the order who have turned to the Dark Side. Weaker than Darth Vader and with no exact number of their compliment known, they'd make perfect antagonists for a videogame.
Obi-Wan Kenobi - He's currently in hiding on Tatooine, watching over Luke Skywalker, but there's no reason he can't put in an appearance as one of the last significant Jedi left in the galaxy.
Darth Maul - The Clone Wars revealed that Maul survived his defeat in The Phantom Menace, and would build up a criminal empire for himself. He's had, um, recent appearances (no spoilers), and it's entirely possible players may cross paths with him if the game starts involving the Star Wars underworld.
Hera Syndulla and Kanan Jarrus - The stars of Rebels were alive and partnered together during this time, and as Kanan is a Jedi it would be a natural fit to crossover with Disney's cartoon series.
Ahsoka Tano - Speaking of Star Wars cartoons, Anakin Skywalker's apprentice Ahsoka is a fan-favourite character who is alive during this time, although she is no longer a Jedi. She is instrumental in the formation of the Rebellion, and she'd be a perfect fit for the game.
Star Wars Jedi: Fallen Order Gameplay - What We Expect To See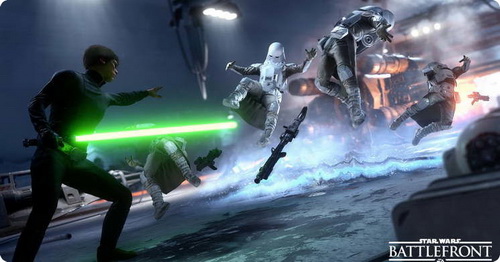 With a title like 'Jedi' and a Developer best known for First Person Shooters making it, our thoughts naturally go to the Jedi Knight series in terms of gameplay. Kyle Katarn, the main character of the Dark Forces/Jedi Knight series, was able to use his lightsaber and a range of Force powers - but also all manner of guns, too. We expect Jedi: Fallen Order to be much the same.
It'd be ridiculous to call a game 'Jedi' and not let us actually be one, but only running around with a lightsaber would seem suspicious in the Dark Times. In Star Wars Rebels, which is set in the same time period, both Kanan Jarrus and his apprentice Ezra Bridger used blasters just as often as lightsabers.
We're hoping for some sort of proper, separate single-player story campaign, but inevitably there will be a significant multiplayer mode too. This would have to be completely distinct from Star Wars Battlefront, and the only way to do that would be to focus on the Force side - maybe a more expanded, in-depth version of Battlefront's popular Heroes Vs Villains mode. for example.
Other than that, there's simply not much to go on - we can't even make a story estimate at this time. Hopefully we'll get more on Jedi: Fallen Order later this year - and that it won't get cancelled.