The hit mobile game Clash Royale was released around the globe back in early March, and since then we've seen a few big updates arrive. However, more changes are coming in a Clash Royale update in early May to fix some of the issues and frustration players are experiencing. Double the rewards from Crown Chests, triple the donations, cheaper epic card upgrades, game-play balance and more.
Multiple recent posts over at the Clash Royale website confirm an important update is coming soon, scheduled for early next month. Which means if you can wait it out, in May the game should be a lot better, speed up, and get more exciting. Here's what you need to know about the May Clash Royale update.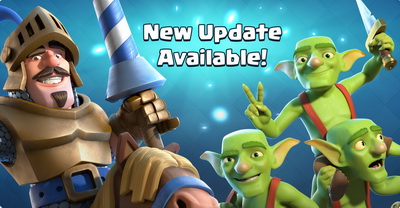 Live Spectating

One of the best features in Clash Royale is the option to fight other players in your clan. This allows players to test new decks or strategies without losing trophies in multiplayer, and it's also how many clans have been hosting tournaments all over the web, Twitch, and other outlets.
Supercell is adding a "live spectate" mode to friendly battles, which will allow clan members to watch others fight in real-time rather than only the replays. This will be a welcomed addition, and help make tournaments better than ever.
This should make tournament events more exciting, more interactive, and let everyone watch the attacks in real-time. We have something similar in Clash of Clans for Clan Wars, so it was only a matter of time until this came to Clash Royale. That isn't all that's changing for tournaments, but more on that below.
Double Rewards in Chests
Perhaps the biggest news that everyone will be excited about for the May Clash Royale update is in regards to chests. As we all know, the chests just don't have enough troops, and the game is starting to get slow, frustrating, and expensive for anyone that really wants to play at high levels.
After the May Clash Royale update Crown Chests will offer double the rewards. As in twice as much gold, more gems, and double the amount of cards available. This is huge. The single best news since the game was released.
This will make grinding out those upgrades less of a hassle, and getting the crown chests more worthwhile. Keep in mind though, this isn't for all chests, and only for the Crown Chest which is earned once a player gets 10 towers in multiplayer battles. The other chests will stay the same, sadly. Now I just need more gold to complete the nearly 25 upgrades waiting on me earning more money. I won't spend real cash.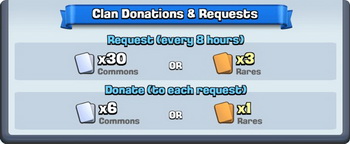 Triple the Donations
Another problem is donations. While it's nice that clan members can donate cards to help us upgrade troops, it still takes far too long to earn 200+ cards and upgrade most troops. Double the rewards will help, and speed up the game, but we're also about to get a lot more donations from Clan members too.
The donation system will improve and increase as players advance and reach higher level Areans. Making it more important than ever to win battles, earn trophies, and get more donations.

As shown above, after the May update donations will get increased. We'll now be able to request 30 common cards and 3 rares. Rather than one rare, and 10 commons. Users will also be able to donate six common cards, instead of only two. However, rare will still only be one donation per request. Plus, who wants to donate three rares anyways? Not me.
Tournament Rules Improved
And last but not least, Supercell is making some important changes with tournament rules to make gameplay more fair. Now many don't do tournaments, but for those that do, you probably know that Legendary cards are severely overpowered in tournaments.
Supercell confirmed that in regular multiplayer they are fine, but in Tournaments they are too powerful. Instead of lowering them though, the company will simply allow for higher regular cards to fight against Legendary cards.
We're not sure if this is the best route, as legendary cards can still absolutely dominate. That said, almost each troop shown in the screenshot above is 1-2 levels higher, which should give legendary cards a harder time in Tournaments, and hopefully improve or balance gameplay.
Cheaper Epic Cards
Another big change coming in early May that everyone needs to know about is in regards to Epic Cards. Most current players don't have Epic cards up last a few levels, but once you get to level 7, it costs 300 cards to get an Epic (like the Prince, or Baby Dragon) to level 8. However, after the early May update it will only cost 200 cards.
Legendary cards will also see a similar drop. This is to speed up the upgrade process, make levels more reachable, and balance gameplay at the top. Those who currently have level 8 Epics will get a gem refund for the 100 cards they lost, now that everyone else gets to upgrade earlier.
Bonus info: Supercell is also re-working the Gold cost of cards in the Shop to scale in a linear fashion (i.e. 20, 40, 60, 80) – and not exponentially as it currently does (i.e. 40, 56, 78, 109) – making them much more reasonably priced overall.
Clash Royale Update Release Date
According to Supercell all of the changes mentioned above, and probably more, will be coming in the next update. It's currently scheduled to be released early next month, which will be sometime in May, but that's all we know right now. This is only an estimated time of arrival, too. Meaning we could see delays until mid-May.