Clash Royale:New Balance Change update come on May 3
"Clash Royale," the mobile game from developer Supercell, is a mash-up between a tower defence and collectible card game. It is now all set to get a new update that bring balance changes on May 3 .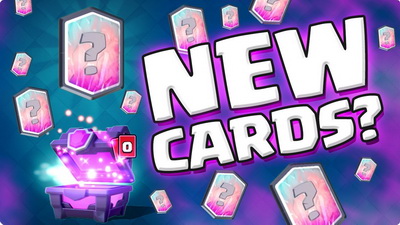 They have given us some sneak peak at the new releasing cards in the previous days. Besides the 6 new cards in this May update, players will also be able to get more rewards when gaming.
Six New Cards:
New Common Card: Fire Spirits
New Rare Card: Furnace
New Epic Card: Guards
New Legendary Cards: Lava Hound, Miner, Sparky

More rewards:
Gold: Receive Gold for each win, even when your chest slots are full
Crown Chest: Contains twice as much!
Super Magical Chest: Chance to drop doubled!
Giant and Magical Chests: Chance to drop increased!
Donations/Requests: Increases as you reach higher Arenas
Card Shop: Legendary Cards can appear once you've reached the Legendary Arena
Maximum Gold: Increased to 1 million
SPECTATING
Live Spectating: Watch Friendly Battles live, and throw confetti!
TV Royale Channels: See the best battles from any Arena
MORE COOL STUFF
Imitation is the Sincerest Form of Flattery: Copy anyone's Battle Deck from their profile
Battle Deck Reshuffling: Move cards inside your Battle Deck when they wobble
Legendary Card Info: Now viewable in most places when tapping on a Legendary Card
Clan Badges: Added lots of awesome new badges
Card Shop: Gold cost of Shop cards now increases in a linear fashion (i.e. 20, 40, 60)
Clan Elders: Added 20 minute cooldown between kicking Clan members
The new update will bring several changes, namely increase in Royal Giant's range, decrease in the Cannon's Hitpoints and more.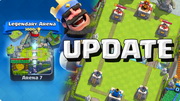 The new update will increase the deployment of the Mortar from the present 3 seconds to 5 seconds, and damage is decreased by 10 percent. This is because the Mortar was considered too powerful for 4 Elixir.
Bomb Tower lifetime to be decreased from 60 seconds to 40 seconds as the Bomb Tower was a difficult to deal with in the low to mid Arenas.
Hitpoints of Elixir Collector will be decreased by 20 percent, because of the high use rate at the top Arenas. It has been almost an obvious choice in many of the player's decks.
Cannon's hitpoints will be decreased by 11 percent as it is offering too much value for 3 Elixir.
The update will be increasing the Royal Giant's range by 1. This is being done to make him more useful in the matches. There has reportedly been a low use rate.
Common and Rare Cards will be mirrored 1 level higher, which is expected to boost Mirror's overall value and appeal.
Valkyrie to be affected when hit by Fireball. This is being bought about for consistency with other small to medium sized troops.