Black Friday Alert: Savings on Your Favorite Games
Christmas day is coming. If you are a MMO enthusiast or you want to buy Christmas gifts for your friends, Mmosale is your best choice.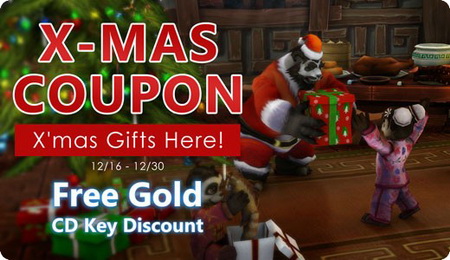 Christmas Deals
Phase I [ time: 12/16 - 12/22 ]
Orders over €15 can get an X-MAS COUPON code, worth 5% of your order, which can be used during 12/23- 12/31.
More news of special offers such as free gold, discounts, cheap items and CDK  will be released on our social-media pages ( Facebook and Twitter) during (12/16 - 12/22). So make sure you are following us.
Phase II [ time:12/23 - 12/30]
10% discount on gold order of ArcheAge, FIFA17,Tree of Savior, Neverwinter Astral Diamonds, and 10% free gold for all the rest games.
Three lucky customers will be randomly selected everyday during the X-mas sales to get 50% or 100% free gold or bonus.
During our X-mas sales, we will post two pictures on our Facebook and Twitter to hold a vote. Anyone who takes part in this vote can get a chance to get our Christmas gifts such as gold, bonus, coupon code, the privilege of year-round 5% OFF, etc.
Special CDK offers on 2 - 3 games every day. If you want to know what and how many CD Keys are on sales, please don't forget to follow our Facebook or Twitter.