Final Fantasy XIV patch 4.2 preliminary patch notes
 Final Fantasy XIV's Preliminary Patch Notes for their upcoming patch, Patch 4.2 - Rise of a New Sun - are here. This patch includes the long-awaited balance changes to classes, as well as other important updates.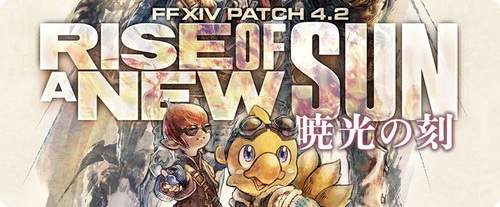 New Main Scenario quests - a chain of eight quests, with names omitted

Players can no longer skip any cutscenes in Castrum Meridianum and Praetorium
-This is to ensure new players can properly enjoy the dungeons and the cutscenes they offer. Rewards from Main Scenario Roulette have also been increased

More Chronicles of a New Era quests have been added
-This includes the new "Four Lords" story, as well as Interdimensional Rift - Omega.
-Hildibrand quests will come in Patch 4.25, as well as Eureka Anemos

The Glamour Dresser and glamour plates have been added

Ananta Beast Tribe quests have been added

Rewards from Gaganaskin and Gazelleskin treasure maps have been adjusted

The acquisition rate for Timeworn Thief's Map in the Lost Canals of Uznair has been increased.

The rewards in the Aquapolis, the Lost Canals of Uznair and the Hidden Canals of Uznair have been adjusted.

The Level Sync for the Lost Canals of Uznair, and the Hidden Canals of Uznair, has been increased to i370

Players can now enter Dzemael Dark Hold, Pharos Sirius, and Copperbell Mines (Hard) with their Squadrons

Subaquatic voyages have been added

Like Free Company airship voyages, but underwater!

Housing Wards 13 through 18 have been added, and will open one week after the release. Players will not be able to purchase them until a later date - only Free Companies can.

Players can now teleport to their friend's free company estates, private estates, and apartments.

Exterior and interior fixtures will no longer be lost when remodeling an estate.

Does not apply to wallpapers used on blank partitions

New Allagan, Ananta, and NPC permits for Estate NPCs
Vendor NPCs allowed in an estate has been increased
- 2->4 for Private Chambers and Apartments
- 3->6 for Cottages
- 4->8 for Houses
- 5->10 for Mansions

Furnishings from the FFXIV Furnishing Design Contest have been added.

Fashion Report comes to the Gold Saucer

Payers who have defeated Triple Triad NPCs, but have not received their card, will have a special marker over their heads.

The NPCs, not the players.

Wondrous Tails now offers more, unique prizes, available for Certificates of Commendation - available as rewards for completing Wondrous Tails

New Emotes & Hairstyles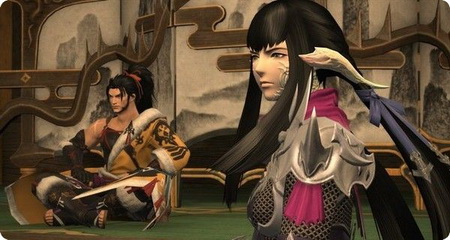 Battle Changes
Paladin

Shield Swipe reduced to 100, from 150 Potency

Holy Spirit reduced to 380, from 400 Potency

Warrior

Mostly buffed, Inner Release and Berserk are now one skill.

Storm's Eye nerfed to 10% buff from 20%

All other Combo Potencies increased

Redditor and avid Warrior player /u/bokchoykn has gone over the Warrior changes in full, which players and avid warriors can read here.

Dark Knight

Delirium recast time reduced to 80 seconds from 120 seconds

The Blackest Knight's effect duration increased to 7 seconds, from 5 seconds.

Monk

Mantra recast time reduced to 90 seconds, from 120

Perfect Balance recast time reduced to 60 seconds, from 180

Wind Tackle's Riddle of Wind effect increased from 5, to 10 seconds

Riddle of Wind will now grant the effect of Greased Lightning, with a duration of 16 seconds

Brotherhood's now applies to the user

Machinist

Rook and Bishop's autoturret hypercharge effect decreased from 6%, to 5%, for the "Target's Damage Taken" effect

Black Mage

Transport recast time reduced to 8 seconds, from 12

Thundercloud effect duration has been increased to 18 seconds, from 12

Firestarter's effect duration has been increased to 18 seconds, from 12

Aetherial Manipulation's recast time is now 10 seconds, down from 30

Fire IV's potency has been increased to 280, from 260.

Summoner

Tri-bind's potency, while under the effect of Dreadwyrm Trance, has been reduced from 100, to 70 potency

Painflare has been reduced from 200, to 180

Ruin III has been reduced from 130, to 120

Wyrmwave has been reduced from 160, to 150

White Mage

Divine Benison no longer requires lilies

Scholar

Excogitation now heals if the effect expires

Astrologian

The Spear's duration is now 30 seconds, up from 20

Earthly Star's cursor indicator now matches the AoE's size

Role Actions

Tank's interject now silences more quickly

Diversion has been improved, and now lasts for 30 seconds

Head Graze now silences more quickly

Other notable changes
The Unending Coil of Bahamut (Ultimate) will see an item level sync of 345, to preserve the difficulty of the raid, as well as the rarity of the achievement

Duty Roulette: Level 70 Dungeons has been added

Offers 100 Tomestones of Creation, 15 Tomestons of Mendacity

The Royal City of Rabanastre is now in the Alliance Raid Roulette

Hells' Lid, The Fractal Continuum (Hard), The Jade Stoa, and Sigmascape v1.0 -> v4.0 are now in Duty Roulette: Mentor

The required average item level to register for Duty Roulette: Mentor has been increased from 305 to 325.